Snow & Ice Removal
Professional Snow & Ice Removal Services – Minneapolis St. Paul, MN
---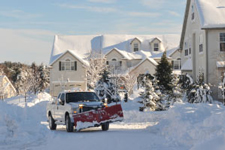 In the Twin Cities Metro area, snow and ice removal is a frequent issue for homeowners and property managers. It's hard work to shovel snow and deal with ice on driveways, sidewalks, and even on roofs. A snowblower helps, but they are expensive machines that need careful maintenance to prevent breakdowns in the middle of the winter. Snow removal is also potentially hazardous, especially for older Minnesotans and people with physical limitations. That's why more and more homeowners are turning to professional services to handle this recurring problem.
HandyQuick's network of highly qualified home maintenance and repair professionals includes snow and ice removal specialists. Equipped with snowplows, high-powered snowblowers, and ice-removal equipment, they make short work of even the heaviest snowfalls. They quickly complete work that would take the typical homeowner hours to accomplish. Whether you need snow removal services only from time to time or want snow removed every time there's a storm, count on the snow removal services from our home maintenance and repair company, wherever you live in the Minneapolis St. Paul metro area. The cost for snow and ice removal is surprisingly low, considering the amount of work you won't have to do. Our services include:
Driveway Snow Clearing – Using a combination of snowplow blades, professional snowblowers, and hand shoveling, our snow and ice removal experts will clear your driveway, no matter how large or small it is. We'll clear the way, so you can get on your way to work or other activities.
Sidewalk Snow Removal – In most Twin Cites jurisdictions, homeowners are responsible for removing all accumulated snow and ice from the public sidewalks in front of their homes. In addition, most homes have private sidewalks, paths and porches that need to be snow and ice-free for safety and convenience. Count on our snow and ice removal services to handle this job quickly, at a highly competitive price.
Ice Melting Compound Application – Properly applied, today's ice melting products melt ice accumulations quickly, even in sub-zero temperatures. Call our Twin Cities full-service handyman company for effective ice melting treatment for your driveway, sidewalks, and other surfaces, and avoid dangerous slips and falls.
Roof Snow Clearing – Snow accumulations on home and garage roofs add up to a surprising amount of weight. That stresses the structure of your home. In addition, as snow melts, it can create ice dams at the edges of your roof. These issues can lead to roof damage and leaks that can cost thousands of dollars. The snow removal specialists from our handyman service in the Minneapolis St. Paul area can remove all or part of the snow on your roof, quickly and affordably.
Ice Dam Removal – When ice dams form on your roof, one of the first signs are icicles that form on roof edges and gutters. Look closely, and you'll see the solid ice that has built up on your roof. That ice blocks water from melting snow from escaping. It can seep into your attic, damage roofing materials, and cause costly leaks inside your home. Call us for expert, professional ice dam removal services. We'll use proper, safe techniques to clear those ice dams. The cost is very low, especially considering the high cost of roof and interior repairs.
Twin Cities Trusted Winter Snow & Ice Removal Company
---
HandyQuick's complete list of maintenance and repair services in the Minneapolis St. Paul Metro area can handle just about any home maintenance and repair problem you can imagine. Snow and ice removal is just one of the many affordable services we provide for our customers. During the winter months, call us for fast, efficient service, and we'll get rid of that snow and ice. The cost is very reasonable, and you'll avoid that backbreaking work. We offer one-time services or plans that cover you for every winter storm. Call today to schedule your snow and ice removal needs.
Inquire About Our Services
651.333.4400