Residential Homes
Complete Home Handyman Services for Homeowners – Minneapolis St. Paul, MN
---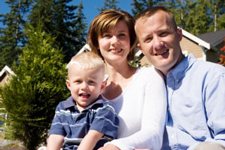 As a homeowner, you're very busy with work, family, and other activities. Dealing with home repair and maintenance jobs can interfere with your life and take up your valuable time. In many cases, you may not have the experience, skills and tools required to make repairs or maintain your home properly and safely. What that means in many homes is that needed repairs and maintenance tasks just get put off for another time. Eventually, they add up and cause worry, anxiety, and can even lead to safety issues. At HandyQuick, we understand your dilemma, and that's why we're here for you.
As a full-service home handyman and licensed contractor service in Minneapolis and St. Paul, we have a wide range of handymen, plumbers, electricians, carpenters, painters and remodelers who are ready to come to your home and professionally handle a single job or an entire list of home repair and maintenance jobs. Our hourly rates and pricing are highly competitive. Because we have fully qualified workers who are trained specialists in all of the systems in your home, we'll do every job correctly, safely, and efficiently. All of our workers are courteous, respectful, professional, and prompt. We're licensed, bonded, and insured, for your protection, and provide accurate price information before starting work.
When to Call A Handyman Service for Your Home
---
Handyman Repair Contractors MN If you have issues in and around your home that need attention, a professional handyman service like HandyQuick is an ideal way to take care of those problems with a single call. Instead of trying to line up a list of separate companies or trade specialists, we are your one-stop solution for every home repair and maintenance need. We'll assign exactly the workers you need and you'll be assured that your work is done properly, quickly, and at a great price. Call us right away when:
You Notice Issues of Concern With Your Home – If you notice something in your home that worries you, like a faulty door lock, a flickering light, cracking peeling paint, or anything else that causes you concern, one call to our home repair handyman service will quickly bring a qualified worker to take care of that issue.
You Want to Fix Up Your Home – It's hard to have complete satisfaction and enjoyment from your home if there are problems that need attention. Maybe the paint is getting old, you'd like a new electrical outlet near your favorite chair, or you want to install new window treatments. Anytime you need professional help with projects around your home, our handyman and other services are your answer.
You'd Like to Do Some Remodeling – Adding features like an egress window or bathroom to your basement or French doors onto your deck or patio are popular, affordable remodeling projects. There are many more remodeling projects that can also add enjoyment to living. Calling us is a great way to get those remodeling projects completed quickly at a reasonable price.
There's a Problem With a Home System – Electrical, plumbing, HVAC systems and major appliances can create real problems when they aren't working properly. Call our full-service company for a fast response to any home system problems. Our experienced service technicians will make the needed repairs.
You Have a List of Neglected Tasks – HandyQuick's talented, versatile general handymen have the experience, skills, and tools needed to take care of your entire list in one visit. You'll be amazed at how quickly and affordably all of those pesky problems can be solved.
You're Selling Your Home – Your real estate agent will almost always give you a long, prioritized list of issues that might keep your house from bringing the best price or that may delay your sale. Call our Twin Cites home maintenance and repair company for professional services that will cut that list down to size quickly while you search for your new home.
Minnesota Homeowner's Handy, Affordable Solution for Home Repairs in Minneapolis St. Paul
---
Keeping your home beautiful, safe, and with all systems working properly is easy when you have a reliable, affordable handyman service on call for you. Don't let problems worsen or live with a home that needs repair, updating, or remodeling. Solve any problem in your home and make it a more beautiful, comfortable place for your family to live by calling HandyQuick. That's why we're here. Our professional, fast, reliable, and affordable services are as close as your phone. We'll help you make your house the home you want it to be, at a price you can afford.
Inquire About Our Services
651.333.4400