Doors & Windows
Complete Handyman Services for Doors & Windows – Minneapolis St. Paul, MN
---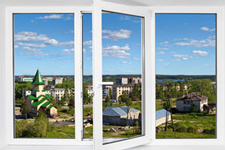 The doors and windows of your Twin Cities home are the face of your home, and much more. Not only do your doors allow you and your guests into your home, they keep unwanted intruders out and add beauty to your home's appearance. Windows let natural light and sunshine into your home, but also keep prying eyes and drafts out. In addition, both protect you and your family from Minnesota's extremes of weather and help keep your heating and cooling energy bills low. Both doors and windows require regular maintenance to keep them doing those jobs.
As a top-rated handyman company in the Minneapolis and St. Paul Metro, we provide a complete range of door and window services to our customers. Our experienced handymen and expert partners have the skills and knowledge needed to keep your doors and windows in perfect condition. One call to us brings our skilled craftsmen quickly to your home for any need. Among the services we provide are:
Window & Door Repair – From door and window framing and trim to repairing broken glass and screens, rely on our repair services to keep your doors and windows doing their job and looking great. We can adjust hinges to fix sticking doors, paint or replace trim, and make your windows open and close smoothly and securely.
Window & Door Replacement – If your entry or interior doors are looking shabby, or your windows are outdated, hard to open, or lose heat during the winter, call on HandyQuick for fast, efficient and affordable replacement with brand new high-efficiency doors and windows. We also replace window screens along with screen and storm doors. Replacing entry doors is a great way to dress up your home's entries when you're putting your home on the market, too.
Lock & Security Services – Let our experienced craftsmen replace old, insecure or hard to operate door locks and add deadbolts. We can also install window locks for additional security. Landlords and property managers use our re-keying services frequently for the security of their tenants.
Weatherproofing – Adding or replacing weather-stripping and caulking around doors and windows is a great way to cut energy losses and lower your energy bills. A HandyQuick handyman will get the job done quickly and correctly.
Window Washing – Take a minute and count all of the windows in your home. While you're doing that, take a close look at them. Cleaning windows is a tough, time-consuming job, so many homeowners neglect this task. Call our Twin Cities handyman service for fast, efficient window cleaning, inside and out and you'll see the difference clean windows can make.
Fast, Affordable Services for Doors & Windows in Minneapolis St. Paul
---
At our complete handyman service company in the Twin Cities, we have every part of your home covered. Our team of qualified, experienced experts in all building trades is always available to handle any need in and around your home. Instead of hunting for individual services on the Internet or searching the Yellow Pages, just call us. Tell us what you need, and we'll dispatch a specialist from our network to your home to get your job done quickly, courteously, and correctly. Our dedication to complete customer satisfaction is your assurance of quality work, and our prices are highly competitive. Call us today for the very best in home service.
Inquire About Our Services
651.333.4400